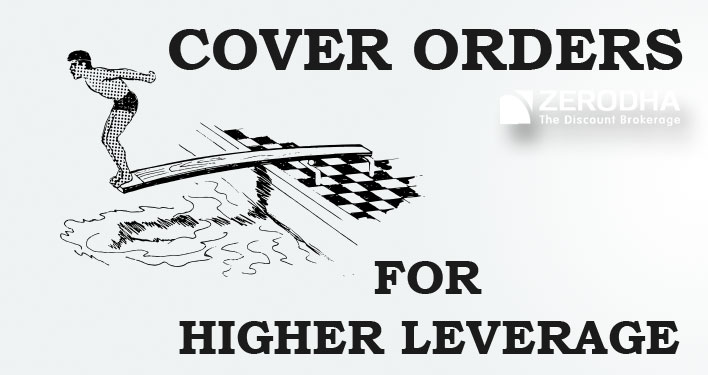 Traders,
We have introduced newer platforms since this post was published. Check out this user manual for Kite and Kite explainer videos here.
This blog gives you an insight into Cover Orders.
Cover Order – Meaning
A Cover Order is an order which is placed along with a compulsory Stop Loss Order. In a Cover Order the buy/sell order can be a Limit/Market Order and is accompanied with a compulsory Stop Loss order, in a specified range. This Stop Loss Order cannot be cancelled.
Since the Stop Loss Order is being placed simultaneously, while getting into the contract, the risk that is being taken automatically reduces. Because the risk reduces, the margin requirement also automatically reduces. Remember that all cover orders (CO) will be automatically squared off around 3:20 PM and hence this is a good tool for Intraday traders only.
Zerodha Trader allows placing Cover Orders for NSE/(Equity, F&O & Currency) and MCX (Commodity).
Benefit of Cover Orders for Intraday traders
Discipline: Placing a Stop Loss while Intraday trading is very important and most traders usually keep a SL in mind rather than on the System. Even if you place a SL order, you are most likely cancel them rather than keeping them on the system. While placing a Cover Order, you have to compulsorily place a Stop Loss Order within a 1.5% range from where you are entering the stock/contract and cannot cancel such order. This way you are also limiting your losses, if any. The SL order can be modified, but within the 1.5% range itself.
Higher Leverage:The compulsory SL limits your losses,  reducing the risk and hence we can offer much higher intraday leverage compared to intraday orders placed using MIS. You get upto 20 times for equity, and upto 7 times for F&O.  Cover Orders are meant only for Intraday traders as all Cover Order positions are squared off around 3:20 pm for Equity & F&O, and around 4.30 pm for currency. Margin required depends on the stop loss price you mention. You cannot carry forward cover order positions to the next day.


Check out the Margin Calculator for Bracket/Cover orders.
How to place Cover Orders
To place a Cover Order, click on the contract and click Shift + F1 (for placing a buy CO) or Shift + F2 (for placing a sell CO). You can also access the Cover Order from the "Orders and Trades" menu on Zerodha Trader. If you are not able to see the option, it means that the Cover Order facility is not enabled for you. Call us on 080-40402020 or email us at [email protected] to have it enabled. You can refer to the below snapshot to know how to place a Cover Order.
Once the order is placed, you can see the pending SL order in your Order Book as shown below. Once the SL is placed, it can be modified by selecting the pending order in your Order Book (F3). Note that the SL can only be modified as a SL order in the range that is provided in the Cover Order window.
**IMP** To exit a Cover Order position, you need to go the order book, click on the pending SL and click "Exit" as shown in the pic below. This is the only way you can exit Cover Orders. You cannot partially exit a Cover Order, they have to be entered and exited in a single order. If any leg of the cover order is rejected/cancelled for any reason, you will have to reach our support desk over phone to square-off the position.
To summarize :
Cover orders give you higher leverage by ensuring that you place a stop loss. This is beneficial only for intraday traders.
Margin requirement is 25% of overnight margins for Index/Equity futures (not for option trading) and for Intraday Stock trading you get 2 times the margin benefit that you get for Intraday Trading using MIS as product type.
Positions can't be exited partially and the only way to exit positions are from your Order Book (F3) by selecting the pending Stop Loss order and clicking on "Exit".
Latest Update ( 16th July 2014)
Cover orders are allowed for trading commodities.
Cover orders for both option buying and writing.
For option buying (only Nifty and Banknifty), you get 140% leverage that means to buy an option at Rs 100 you need only Rs 70. Maximum SL should be within the applicable price bands.
Cover orders shouldn't be used in pre-market opening between 9 am to 9.15 am
Happy Trading,